Proposal
The Coalition Government adopted a 'Workfare' scheme that consisted of three main initiatives – 1. the Work Programme; 2. the Work Experience Scheme; 3. the Community Work Placement Scheme
The Work Programme was launced in June 2011 by the Department for Work and Pensions. It represents both a privatisation and intensification of the workfare (Welfare-to-Work) scheme introduced by the preceding New Labour Government (Rees et al., 2014: 224).  It represented a privatisation of the initiative as the responsibility for finding work placements was moved to private sector providers – e.g. A4e, Serco, G4S, and Avanta. It represented an intensification of the workfare scheme as sanctions were increasingly used (or threatened) for those who refused to participate.
"The Work Experience programme was launched as a voluntary scheme for people between 16 and 24 who have been unemployed for more than three months, but less than nine. Jobseekers who take part have an unpaid work placement for two to eight weeks, working 25 to 30 hours each week. They continue to receive jobseeker's allowance throughout, and may get a contribution towards travel or childcare costs. However, anyone who cuts their placement short after more than one week will have their benefits stopped for two weeks. By November 2011, 34,200 people had started a Work Experience placement." source: Guardian
In April 2014 an additional Community Work Placement scheme began, which required the unemployed to do unpaid voluntary work placements in order to receive their unemployment benefits. The scheme applied to those who were classified as long-term unemployed and in receipt of unemployment benefits.
In addition, the Government's Welfare Reform Act 2012 considerably tightened up the sanctions system through which those accused of failing to try sufficient hard to find a new job would be punished through benefit sanctions. This was added to in August 2015 when Cabinet Office minister Matt Hancock set out plans for jobseekers aged between 18 and 21 to be placed on an intensive activity programme (what was referred to in the media as a 'boot camp') within the first three weeks of submitting a claim.
In sum, the proposals that together constitute the government's Workfare programme introduced a range of measures that significantly increased the compulsion placed upon the unemployed to take up work placements (regardless of the degree to which they were suitable in terms of career progression), leading some to describe them in terms of forced labour. Further, the use of sanctions ensured that some of the poorest members of society would be targeted for punitive measures.
In terms of severity, the measures represented a significant change , creating a significantly more austere welfare state. In terms of its target, as it was focused especially on the unemployed, we conisider the measure to be targeted on 'outsiders'.
Severity: high
target: outsiders
Refusal
The Government's Workfare programmes were highly controversial – sparking several rounds of opposition throughout its implementation, including the creation of the Boycott Workfare group.
Imperceptible dissent: obstinate unemployed workers who proved most difficult to place in the scheme found themselves 'parked' by the private firms who were paid according to their performance in terms of achieving long-term employment and therefore 'gamed' the system by focusing on those unemployed who they felt were likely to be most employable and therefore likely to find a longer-term placement (which would result in the private firms being financially rewarded) (Rees et al., 2014).
imperceptible dissent: substantial
Militant refusal. Workfare became increasingly notorious during its implementation – witnessing a series of attempts to publicly disrupt the retail employers taking part in the scheme.  One high-profile incident included the occupation of the Tesco Express near to Parliament – as a result of the publicity arising from which (and in combination with the fallout arising from an online advertisement for an unpaid job) Tesco began to put pressure on the Government to ensure that it would be voluntary. Holland and Barrett also faced routine disruption of its stores by protests organised by Boycott Workfare.

photo source
This also included a day of action in Nottingham, a week of action in July 2012, including in Reading, York, and several cities across the UK.
militant refusal: substantial
Public opposition. Perhaps the most high-profile form of public opposition to the Government's Workfare programme was the legal challenge brought against it by two benefit claimants who were forced to do unpaid work in order to continue to receive their benefits. In one case – Cait Reilly – the claimant was forced to give up her voluntary work in order to work in Poundland. In the other case, Jamie Wilson was required to do unpaid cleaning and renovation work. In bringing their challenge against the Government the two claimants built their case upon four key claims, including that the Regulations upon which the scheme was based were both legally insufficient (i.e. the Secretary of State had acted beyond the powers granted by Parliament), had not been properly followed, and that the scheme amounted to a Human Rights violation on the grounds that it constituted forced/compulsory labour (Adkins, forthcoming: 3-4). Despite losing their initial claim, upon appeal (in 2013) it was decided that the Government had acted outside of the terms set by Parliament, and so the scheme was deemed unlawful (although the claim of forced/compulsory labour was not upheld by any of the courts).
The Government's Workfare scheme also resulted in a number of public demonstrations, which sought to highlight the unfairness of the scheme. In June 2015 Haringey Solidarity Group staged a demonstration in opposition to (and seeking to highlight) a community work placement scheme based at Finsbury Park tube station, in which unemployed benefit claimants were forced to stand around the tube station acting as 'wardens', without any pay.
The scheme also included significant political opposition – for instance North Lanarkshire council pass a motion in October strongly objecting to forced employment schemes following press reports of sanctions being imposed upon an unemployed man for refusing to work for a firm where he had earlier worked for minimum wage.
The work placement scheme also prompted some high-profile individual acts of refusal. For instance, John McArthur, 59, refused to attend his work placement in 2014 on the grounds that it was a job he had previously been paid to do. In protest, he paraded outside the company for 2 hours a day for 3 months, with signs saying "Say no to slavery".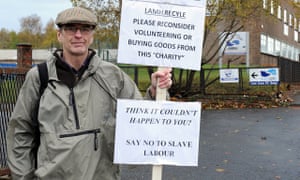 photo source
The workfare scheme also prompted the creation, in April 2014, of the Keep Volunteering Volunary campaign, which was signed up to by charities that felt that the principle of volunteering was being undermined by the Government's policy – in particular the new community work placement scheme due to be launced in April 2014. The 350 organisations that signed up to the scheme pledged not to participate – creating considerable problems for the government in terms of finding participants and thereby delaying its full implementation.
The scheme also received public opposition from trade union officials. For instance, 'Unite's assistant general secretary, Steve Turner, said: "This scheme is nothing more than forced unpaid labour and there is no evidence that these workfare programmes get people into paid work in the long term. We are against this scheme wherever ministers want to implement it – in the private sector, local government and in the voluntary sector. The government sees cash-starved charities as a soft target for such an obscene scheme, so we are asking charity bosses to say no to taking part in this programme. This is a warping of the true spirit of volunteering and will force the public to look differently at charities with which they were once proud to be associated. It is outrageous that the government is trying to stigmatise jobseekers by making them work for nothing, otherwise they will have their benefits docked." (source: Guardian).
It also faced public criticism, by the Gingerbread charity, for failing to take account of the childcare needs of single parents. Likewise, Barnados claimed it risked pushing children into poverty.
In July 2012 the scheme gained considerable attention in the media, including the publication of an open letter by a number of charities, trade unions and campaign organisations, criticising the scheme on the grounds that it, "does not create a single job", punishes the unemployed and calling for "all organisations to challenge forced unpaid work by boycotting workfare".
We therefore witnessed an ongoing round of public opposition. This was both non-disruptive (in the form of public demonstrations and legal challenges) and disruptive (in the attempt to occupy, obstruct, or stand outside of participating businesses in order to highlight their participation and thereby disrupt their operation so that they would cease participation in the various schemes). We also witnessed attempts at militant refusal, in that on a number of occassions critics directly intervened in the workplace in an attempt to obstruct and oppose workfare.
imperceptible dissent: substantial
public opposition (non-disruptive): substantial
public opposition (disruptive): substantial
militant refusal: substantial
Obstacles
The high level of opposition to Workfare directly caused a number of problems and obstacles for the scheme.
A high-profile legal ruling went against the Government, in the case of Cait Reilly, who was forced to work in Poundland rather than on an unpaid voluntary work experience scheme that was of relevance to her degree. The ruling subsequently required the introduction of emergency legislation and significant decline in the popularity and acceptability of the scheme. This therefore represented a significant governing problem for the coalition.
Further governing problems were also created by the ongoing opposition. In response to several of the rounds of protest, many firms pulled out of the scheme – including Sainsbury's, Waterstones and Matalan and TK Maxx– and also including those subject to online protests, including so-called 'twitter storms'. Holland Barrett was one of the largest profile companies to pull out of the scheme, after initially employing 1000 unpaid workers between 2011 and 2012 – eventually citing 'bad press and in-store protests ' as its reason for pulling out of the scheme. A number of charities that initially participated in the scheme also chose later (2012) to publicly announce that they would be leaving the scheme on the grounds that it forced the unemployed and/or disabled to do unpaid work – including the British Heart Foundation, Cancer Research, Age UK, and Scope. Others were forced into making embarrasing admissions of their use of the scheme – for instance when Homebase was found to have internally advertised the work experience scheme as a good way to secure free labour.
The impact of this adverse publicity on the operation of the scheme was indirectly acknowledged by the Government itself. Thus, in October 2014 the DWP was forced to appeal against a first-tier tribunal decision of May 2013 that forced the Government to reveal the location of its placements. In arguing against the instructions it had received on transparency, the Government claimed that 'if the public knew exactly where people were being sent on placements political protests would increase, which was likely to lead to the collapse of several employment schemes and undermine the government's economic interests'. Moreover, at the tribunal the DWP confirmed that some of the UK's biggest charities, 'including the British Heart Foundation, Scope, Banardo's, Sue Ryder, and Marie Curie' had withdrawn from the scheme, causing a significant loss of placements (source: Guardian). Indeed, Boycott Workfare consistently sought to add to this pressure, by submitting freedom of information claims in an attempt to make public knowledge which organisations were benefiting from the employment of unpaid benefit claimants – prompting the almost immediate withdrwawal of Scarborough council from the scheme.
In addition, as noted above, obstinate unemployed workers who proved most difficult to place in the scheme found themselves 'parked' by the private firms who were paid according to their performance in terms of achieving long-term employment and therefore 'gamed' the system by focusing on those unemployed who they felt were likely to be most employable and therefore likely to find a longer-term placement (which would result in the private firms being financially rewarded) (Rees et al., 2014) – as such some of the main aims of the scheme (to move long-term unemployed into work) went unrealised. This terefore represented a form of non-compliance as an obstacle to the implementation of the scheme.
Further, the sanctions system which was tightened under the Welfare Reform Act 2012 faced considerable opposition from MPs, with the Work and Pensions Committee publishing a Report on Tuesday 24 March 2015 in which it called for a full independent review to be established in the new Parliament, to investigate whether benefit sanctions are being applied appropriately, fairly and proportionately, across the Jobcentre Plus (JCP) network. This followed the earlier Oakley Review, an independent review set up by the government to examine the implementation of the Jobseekers (Back to Work) Act 2013, which was critical of a number of the features of the sanctions scheme. Indeed, the degree to which sanctions have even improved employment rates has been consistently questioned – despite an ongoing long-term rise in the use of sanctions.
Boycott Workfare list here the large range of obstacles that opposition to Workfare has created – a fact that has been noted by the Government itself.
Finally, a range of indirect problems were reported, with a particular focus on the problems associated with the "massive, unwieldy private-sector bureaucracy" that is part of the Work Programme – especially due to the lengthy supply chains of contracting companies that constitute the scheme. Thus, the complexity of the scheme was compounded by the problems associated with implementation noted above, therefore representing another group of obstacles indirectly arising from the high level of refusal to the scheme.
obstacles: indirect; non-compliance; and governing problems
Response
discipline – As noted above, the Government's initial response to the adverse legal ruling in the Reilly/Wilson 2013 appeal, was to pass emergency legislation – the Jobseekers (Back to Work Schemes) Act 2013. This sought to retrospectively ensure that the schemem was lawful and that no claim to recover benefit sanctions could be made (Adkins, forthcoming: 5).
concessions (partial capitulation) – The Government was also forced to capitulate in 2012 over its commitment to sanctions for its work experience scheme – as pressure from employers that didn't want to be associated with the sanctions (and the compulsion to do unpaid labour, which was detrimental to public reputation, that it implied). As a result it announced that sanctions would not be applied for most of those who did not take up the scheme (with the exception of so-called 'community benefit' schemes), and the scheme rules would be changed accordingly (despite reluctance on the part of the Government ministers).
consent-seeking – The Government also tended repeatedly to argue that the work placement schemes were beneficial to participants – helping "long-term unemployed people to gain work experience which increases their confidence, helps them to gain vital skills and crucially, improves their chances of getting a job".
concessions: substantial
Outcome
Went ahead?
Yes – but with significant problems in implementation, and being forced to back down on sanctions.
Consequences?
none perceivable
sum: substantial obstacles (2) and substantial concessions (4) – very patchy and only limited adoption (2+4=6)